Let's help our new sponsors out by buying some chicken!!!!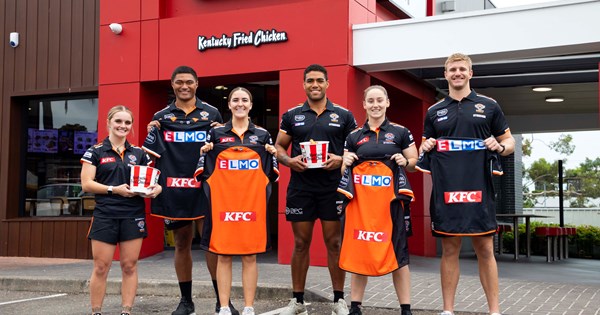 Wests Tigers are pleased to announce that KFC Australia have joined the club as a premier partner for the coming two seasons.

www.weststigers.com.au
Wests Tigers are pleased to announce that KFC Australia have joined the club as a premier partner for the coming two seasons.
A household name for all Australians, KFC's new partnership with Wests Tigers will encompass the club's elite men's and women's programs, with branding to feature on the training apparel and jerseys of both teams in 2022 and 2023.
The iconic KFC logo will feature on the back of the men's NRL jersey as well as the women's Harvey Norman NSW Women's Premiership and Tarsha Gale Cup jersey — ensuring they are behind Wests Tigers every step of the way in the years ahead.
Wests Tigers CEO Justin Pascoe welcomed KFC on board as a partner and said the signing of an iconic global brand reinforced the growing strength and community confidence in Wests Tigers.
"On behalf of all at Wests Tigers, I'd like to officially welcome KFC on board as premier partner and express our thanks for their support over the next two years," Pascoe said.
"We have faced a number of challenges over the past two seasons with COVID, and our partnership with KFC is a recognition of how well our club has emerged from those difficulties and into a position of sustained growth and strength. KFC is an incredibly strong and iconic global brand who we're delighted to commence a formal partnership with.
"This partnership will not only achieve strong business outcomes for both organisations, but it will also see the KFC brand involved with match day partnerships and fan engagement initiatives that will provide great value for our passionate Members and fans."
KFC Australia's Chief Marketing Officer, Kristi Woolrych, said: "We're delighted to begin the partnership with Wests Tigers. KFC has been a big supporter of footy for a long time, so we're over the moon to become a Premier Partner of the Wests Tigers for the 2022 and 2023 seasons.
"Wests Tigers are an amazing club that does more than play footy; they have great grass roots and youth development programs, as well as incredible diversity initiatives that promote inclusion.
"Wests Tigers are also known for having some of the most passionate fans in the game, and it's safe to say that there's no better environment than seeing a team win from alongside them, so we can't wait to get KFC amongst this. We wish the club all the best next year and bring on the 2022 season!"
For more information on KFC Australia, visit
www.kfc.com.au/about-us
.